Post by ShyGuyXXL on May 9, 2019 2:51:35 GMT
I hate this glitch so much, I've even made an animation mocking it.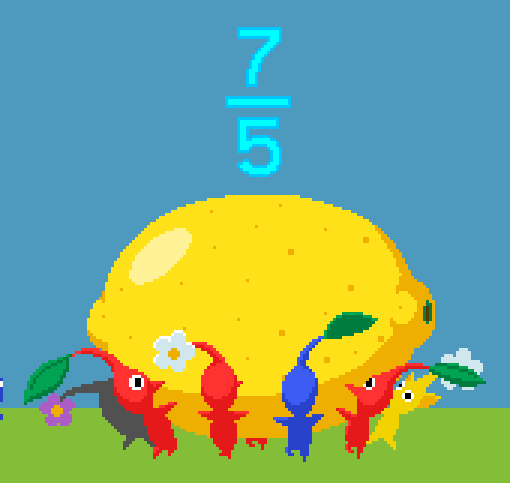 This happens to me ALL THE FLIPPING TIME when I'm playing Pikmin 3.
Over and over and over.
So your Pikmin are carrying something and there's still room on the object.
You wanna throw a few more to reach the maximum carrying capacity.
But oops! What's that? The Pikmin can't get to an open slot and just get pushed around by the object instead of walking around it. So they just gyrate in place until they inevitably give up and stand around.
Whelp, now you gotta get those stragglers back so they don't get left behind. So you just wasted a bunch of precious seconds trying to be efficient. OH WELL.
This wouldn't be so bad if it wasn't a CONSTANT problem.
I've come to the point that I don't even try to be as efficient as possible anymore when playing Pikmin 3. I just throw the minimum number of Pikmin on an object and then leave them be. And that's a problem. Pikmin is all about time efficiency if you ask me.
What makes it even worse is that this was never a problem in Pikmin 2. It was sometimes in Pikmin 1, but in 2 they perfected those mechanics. They worked so flawlessy.
I've never had any problems with them. Wanna add a few more Piks onto a treasure? Just throw em and trust that they will make it. And they did.
Maybe in some extreme cases they would have troubles, but not when you're just casually playing.
But in Pikmin 3 it's constant. So I've got to ask, how did this get past the testing phase? They've HAD to have noticed this!
When I've beaten the Meerslug and wanna get all the watermelon pieces home as fast as possible, it's a NIGHTMARE.
Apparently if you charge your pikmin onto an object, it's more likely they will all latch on in time, but that's not always the best thing to do. Sometimes I have a bunch of different pikmin types with me and I want each object to go to a specific type. So then I'd have to dismiss them all, hope none of the dismissed groups are close enough to an object that they start carrying it on their own, then whistle one type, charge it onto the object I want them to carry, then whistle the next and so on.
It would be much nicer if I could just throw them.
Why don't the pikmin just teleport into position? They also teleport into your hand when you throw them. And the ceramic shards teleport into their hands when they pick one up. So for convenience sake they should've just made it so the pikmin teleport to an open spot when they touch the object. Nice and clean.
Or maybe they can make it so the Pikmin can move through any other objects. So their physics don't get in the way. Or maybe they can change the carrying mechanic so that a Pikmin can join the "circle" at any point and the rest of the pikmin will just move around the object so that there's even space between each pikmin.
Either way, if this is still a problem by the time Pikmin 4 comes out I swear, I will scream.
So what about you? Have you had as much trouble with this as me? Or is it just me?