Post by Scruffy on Dec 21, 2015 5:33:31 GMT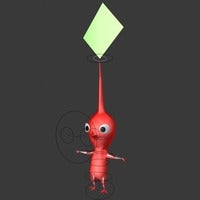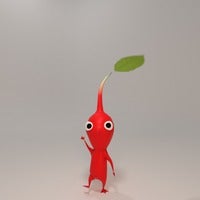 Today I created and rigged a fully functioning skeleton for a Pikmin! Shown here is a new version of a Red Pikmin model using such a rig. This rig began with just a T-pose model of a Red Pikmin from Super Smash Bros. Brawl (all I had access to at the time), and I created a skeleton for it that I worked on painstakingly until every bone controlled its respective body part correctly. This Pikmin is essentially ready to be animated!
There are eight invisible bones in the stem (all controlled by the large circle at the top) to make the stem bend in a nice smooth curve. The leaf is also rotatable. There are more circular controllers for the head and neck, and one specifically for the Red Pikmin's nose. Moving down are bones that control the arm joints and even the fingers (although since the fingers are few polygons, they're still a little weird), and circular controllers for the midsection and whole torso. At the bottom are leg and feet bones (I haven't rigged toes yet) and a base controller for rotating the whole Pikmin model.
Finally, the biggest project and my biggest personal achievement is the eyes. They are 3D objects, but they rotate in a warped space, so the pupils can rotate around while still keeping a flat eye shape. Instead of a Pikmin lifelessly staring ahead at nothing, this model's eyes can now look around at things, and use its eyes to convey focusing on distance, like in the short movies; in essence, the Pikmin's eyes now literally have muscles behind them. The pupils cannot yet change size, and deforming the eyes for expressions is a bit robust at the moment, because I'm still learning more about creating them. But at least the eyes themselves are rigged objects, not just simple "eye" textures that don't move.
In total this file has 4,499 faces (only a few of those are the stage/lighting setup). The leaf diffuses direct light, but some light also passes through it and bounces around inside it, like a real leaf. The other materials are all just basic colors, and as the viewing angle gets more oblique the material gets more reflective (this is called the Fresnel effect). I'll probably be making a video soon to show all these functions, as soon as I figure out how to do that. I'll also soon share the .blend file here, so if anyone is interested (and Blender is free and open source) he/she can mess around with this Pikmin rig too!
I'll also probably try and find a better texture for the leaf than the Pikmin 1/2 texture shown here, and perhaps attach adjustable buds/flowers. I'll also make other types! If anyone else has suggestions or comments, let me know here!
P.S. This is the first step for me in making the "Blues Pikmin" artwork. I had already started this project and come to a halt when SpiralBlaze requested the "Blues Pikmin" scene, and when I read it I got inspired to finish this thing off. So kudos to SpiralBlaze for the indirect encouragement!